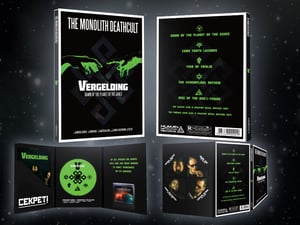 €

12.99
Also available on LP: HERE
Also on streaming and download HERE
UNTIL 31 DECEMBER 2018 ALL ORDERS OVER €50 (EXCL SHIPPING) WILL COME WITH A FREE DELUXE EDITION OF "TRIVMVIRATE"!
V2 - Vergelding is the second installment of the Tragic Trilogy, The Monolith Deathcult disappoint better than they've ever disappointed before. Continuing the aggressive onslaught of V1, this new album V2 is furious, merciless and uncompromising. the vitriolic vengeance spewed on V2 makes the world brace for the bitter battering on V3.
CD comes as a CD-shaped CD, shaped in the form of a commemorative CD-shaped CD. CD included.